Thursday, our first ministry-car is repaired. Ready to be a reliable Partner for our Ot Pa Wora. Leo, our mechanic, finshed the last things.
On our way back we prayed:
Jesus, it's your car. Bless all ways with this car. We will use it for your Kingdom. Whatever happens, let never get someone hurt in to through this car.
On saturday Judith and Schwarz went to an function in the west of Uganda. Their car was in repair and they asked us for ours. On the way back round about 22:30 the driver loose control. The car went off the road and turned over several times on it way in a little valley. The car ended on the roof. Nobody expect all 6 person will leave the car healthy.
HOW GREAT IS OUR GOD! HE HEARS OUR PRAYER!
All 6 persons lease the car without hurts. Only the driver had a small cut on a finger.
Let me close with Romain 11, 33-36
O the depth of the riches both of the wisdom and the knowledge of God! how unsearchable are his judgments, and his ways past tracing out! For who hath known the mind of the Lord? or who hath been his counsellor? or who hath first given to him, and it shall be recompensed unto him again?
For of him, and through him, and unto him, are all things. To him be the glory for ever. Amen
This praise we do even we have no solution for our car which is broken totally.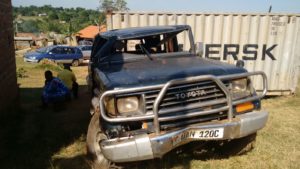 Postscript:
Today, 2 days after this accident we got a donation for that repair, that might be enough. Hosianna!
Gott provides!