These were the themes on and after 01.05.2015. On this day we had our first anniversary Hoffest our farm community. Along with nearly 400 people we celebrated!
It was a glorious day. Petra and I have used the day for a yard sale to build. All the little things that we can not take to Uganda, need to find new owners.
We have many good encounters with people. Can talk about what moves us to share our heart and also talk about the future. At the end of the day many things are gone and we have 753, – € in our travel budget. Overall, we've been through the flea market 1.200, – € and two new regular supporters.
There were also serious moments that have nothing to do with the actual things that go away. During the long years without a car Petra did the family shopping for the family of six with the wheel. On vacation we lived from the panniers. When a visitor then drove Petras panniers on the farm, so rolled a piece of "life" on the farm.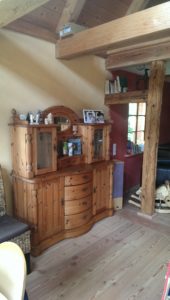 Not quite much different it was us, driving our beautiful breakfast from the living room to see them. But it has found in Jule and Sören for a new home. We have been blessed thus to get to know in this way these two two wonderful people.
As I think about it, how many times we are taken so captured by the superficial events, which we no longer see the other things. We want to stay awake and take such encounters deliberately as gifts.