25.01.2018
Today it should happen. David and his family are prepared. The things are packed, the house rented. 4pm they want to come tp pick the kitchenstuff we bought together in the market. We are waiting.
Time to look back. What a wonderful celebration we had on Sunday. we have been together with David, his family, Charly, his mother and Dickens, a friend of David. The friends are coming as witnesses. David ans Annett are living together since 11 years and have 4 childresn. But they are not married. Thats not easy in Uganda and most of the ppeople cant afford to do it.. But thts an other theme.. Together with David we found, it would be good to be married before God, before they step in the ministry.
We had a really fine wedding on Sunday. After the wedding we sent him and the family out to Abakadyak and blessed them. The reward was a movie (Queen of Katwe). David has been so touched by it. The coach in the movie is trainer for some kids out of the slum. Thts exactly, what will be his task in Abakadyak.
We are still waiting. then a call from David. The lorry stucks in Lira (112km) and is coming later. Maybe in the evening.
26.01.2018
7am, David is calling we are already near the gate!
We, that means, David, Annet, 4 children, the driver, Dickens, Charly with a nice, 2 puppies, some chicken and two piglets. All that surrounded by a lot of stuff.
all is arranged very fast and the journey begins. The driver, David, Annet and the two small children are in front. the other person are on top of all stuff. 7.46am they are leaving. Tears are running. No rain since October. It is dry and dusty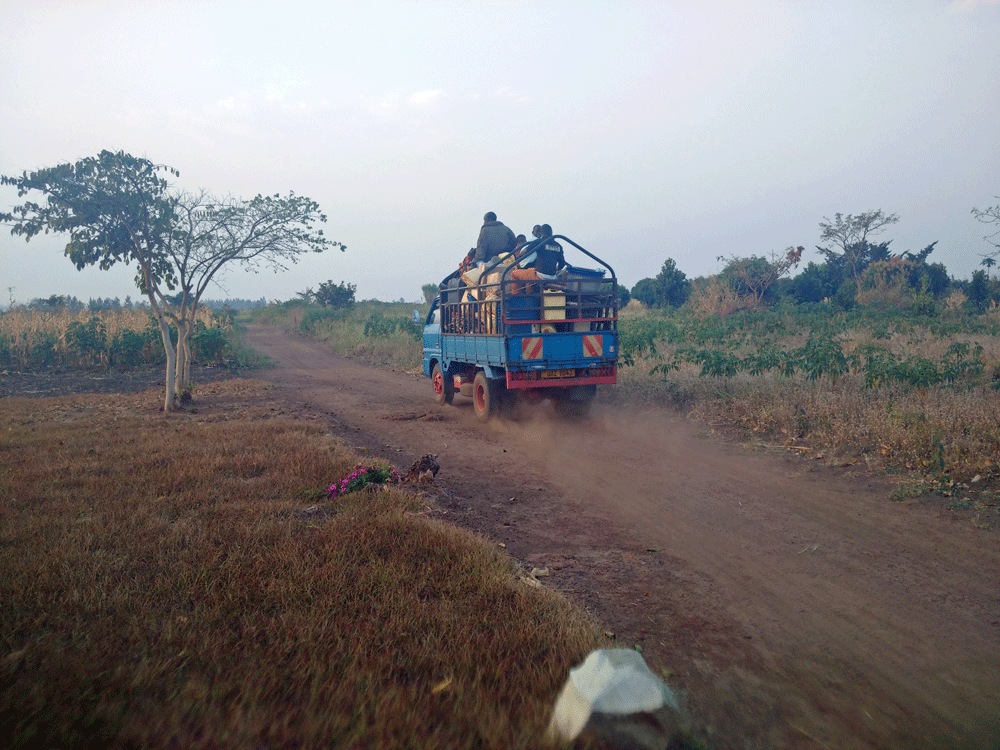 26.01.2018 – 7.45pm 12h and 256km later they arrived save and all healthy. The adventure Ot Pa Wora – Lamwo has started! Shifting the ugandan way …